Enabling
Next

Generation Legacies

35 Questions that Next Generation Members in Enterprising Families Ask
Peter Jaskiewicz & Sabine B. Rau
"... this is much more than a book. It is a practical guide ... on how to tackle difficult issues that Next Gens face daily."
—Alexis du Roy de Blicquy
CEO, Family Business Network (FBN) (Switzerland)

"The highly relevant questions asked by Next Gen family members from around the world … make not only Next Gens but also the older generation in charge reflect on the future success factors of their enterprises."
—Dr. Alfred Oetker
Vice Chairman, Advisory Board Dr. August Oetker KG (Germany)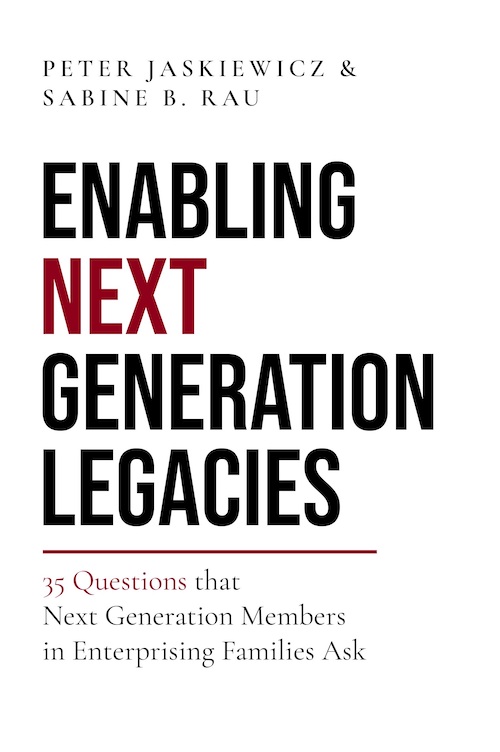 The next generation is our future.
Leading academics, practitioners, and enterprising families come together to answer the most pressing thirty-five questions of Next Generation members in a short and concise, yet competent way. To empower Next Generation legacies, the authors share best practices, real-life examples, and critical questions for reflection.
Preview - Table of Contents
This book is like a buffet: on four tables, 35 different appetizers.
We recommend that you sample some appetizers at a time and come back to the buffet to taste others later on. We further recommend that you do not stop at the appetizers. This book offers over 150 additional references and over 100 questions for further reflection that could be your main course.
Preview - "We Are Living All Over the World"
What Can We Do to Help Keep the Family Together?
Response by Christine Blondel, France

With an increasing number of family members studying and sometimes settling abroad, keeping the family together can be a challenge … Do we make the effort?… and which efforts can we make? What can we do to help keep the family together?
"This very helpful book is a gift to next generation members of enterprising families. Each chapter is a gem and collectively, it is a must-read."
—John Davis

Faculty Head, Family Enterprise Programs, MIT Sloan School of Management (United States)
Peter and Sabine have chosen to pay forward the Telfer School of Management's investment in this project by donating their book royalties to a Telfer fund, helping students in need.
We welcome your comments, questions and suggestions.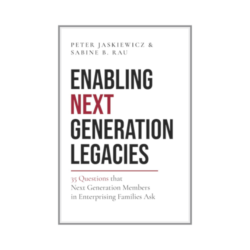 "Solving a problem often starts by asking the right question. This book is a great source of inspiration and a true repository of knowledge providing international perspectives—not only for Next Gens but for everyone engaged in a family business."
—Markus Langes-Swarovski

President of the Board of Directors and Member of the Advisory Board, Swarovski (Austria)